Delicacies
All these restaurants and dishes are well-known in Taichung Feng Yuan, especially Feng Yuan Night Market. If you have time, make sure to take a walk and try some!
---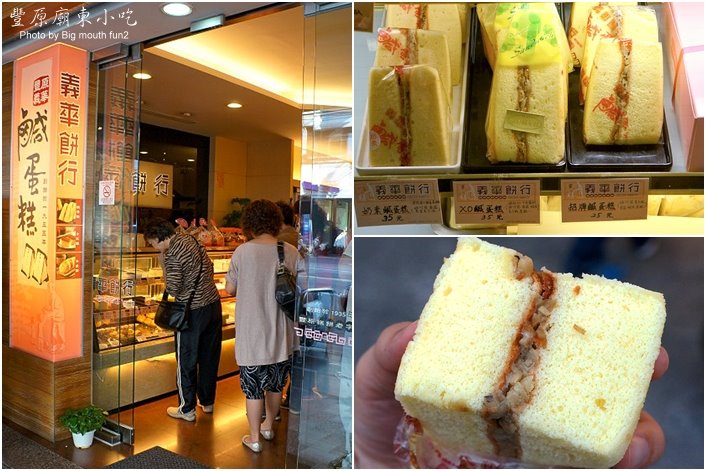 Snowflake Taiwan Pastry
Address: No.1, Ln. 212, Zhongzheng Rd., Fengyuan Dist., Taichung City 420, Taiwan (R.O.C.)
Tel: 886-4-2522-2713
Snowflake Taiwan Pastry has been established for 100 years and the current operator said, 'feelings more important than eating. What he means is that pastry carries not only taste but also heritage. In the early days, as far as pastry was concerned, Japan was the mainstream, that is, handcrafts and persistence; therefore, the founder upheld and passed down the spirits through generations to the present. The steamed salty cake has two layers and there is salty fillings between them. When you have a bite, you can taste the sweetness; then rich aroma of the salty will be dispersed in the mouth.
---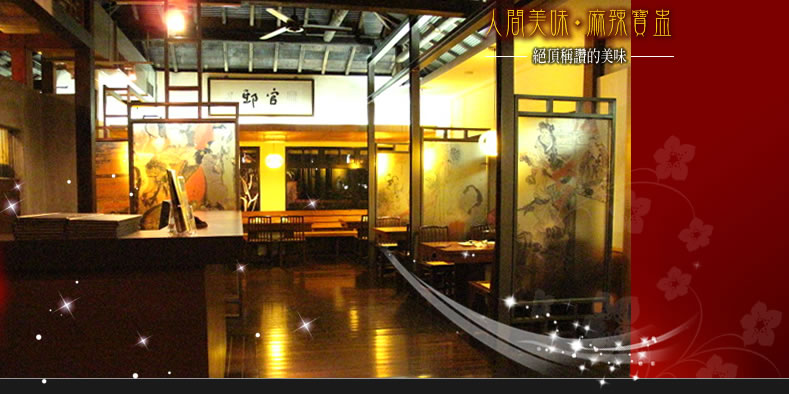 Edin Hotpot
Address: No.1, Shuiyuan Rd., Fengyuan Dist., Taichung City 420, Taiwan (R.O.C.)
Tel: 886-4-2515-9445
It is located in Zhong Zheng Park in Feng Yuan. It's the only restaurant where you can walk at two sides along the coconut and banyan trees, flowers and fish pond. Besides, there are basketball court, skating rink, swimming pour and child playground for visitors/children to go after meal.
---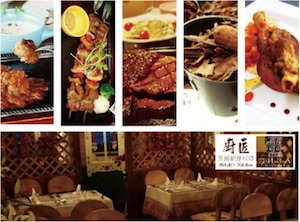 Retski's Kitchen
Address: 57, DaShe St, Fongyuan Dist., Taichung City
Tel: 886-4-2515-2581
Address: No.204-3, Donglan Rd., Dongshi Dist., Taichung City 423, Taiwan (R.O.C.)
Tel: 886-4-2577-1788
This restaurant is located in Taichung and is filled with places serving foreign cuisine, there are very few that go as far as this one to completely immerse customers in an exotic foreign setting. In this case it's a large-but-cozy, exquisitely-detailed wooden Belarussian summer house and garden setting, complete with Belarussian/Russian photos and knick-knacks (including the obligatory Russian nested dolls), costumed wait staff and pleasantly-melancholy Russian music.
Belarussian chef Valerie Retski opened his first Retski's Kitchen in Angel's Fongyuan city hometown. Most of entrees come with Russian bread with cheese/garlic spread, a soup (sometimes Borscht), salad, dessert and drink. Most of these sides change weekly with the more exotic offerings including the Red Beet Salad, whose color intrigues Taiwanese diners, a finger-sized crystal fish with tartar sauce appetizer, and Kissel, a thick fruit soup dessert popular in eastern and northern Europe.
---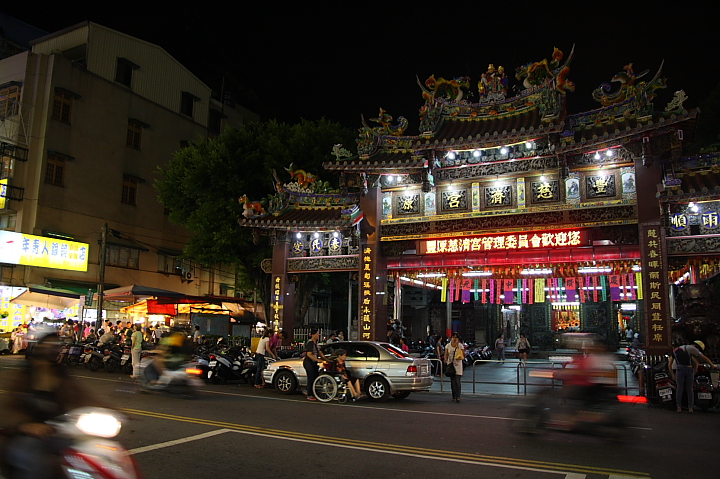 Feng Yuan Night Market
Address: No.167, Zhongzheng Rd., Fengyuan Dist., Taichung City 420, Taiwan (R.O.C.)
In Taiwan, many night markets have sprung up around temples, which makes a lot of sense if you consider the temple as a community gathering spot that has always had snack vendors outside, and some of them therefore grew into full-blown snack markets or night markets. As with Miaokou Night Market in Keelung, Fengyuan Night Market in Taichung running from midday all the way to midnight also has a temple that serves as the backdrop to this street of gastronomical fun.
Among so many different vendors within Fengyuan Night Market, Qingshui Pork Rib Noodle is no doubt a crowd magnet. The deep-fried pork ribs are soaked in the noodle soup, which add to the complexity of the yummilicious dish — queuing is inevitable though. Named one of the must-eat places at Fengyuan Night Market, Mantingfang Beef Noodle is surely another eatery not to be missed. Fengyuan Night Market is abundant in all kinds of traditional Taiwanese delicacies. From pork ribs in spices and herbal soup, stinky tofu, oyster omelette to bawan and sugar roasted chestnuts, there is something for everyone.
We understand the pain that you go through while strolling down those streets in the sweltering hot summer. Fret not, a number of tea houses and restaurants are in the proximity, where you can sit back and relax without sweating like a pig. If you happen to be a cinephile, there is a quaint cinema with its facade covered by enormous hand-painted movie placards of the current shows just sitting right next to the night market. Whether you are looking for yummy goodies to fill your tummy or some various entertainments to enjoy your leisure time with more fun excitement, Fengyuan Night Market won't disappoint.
---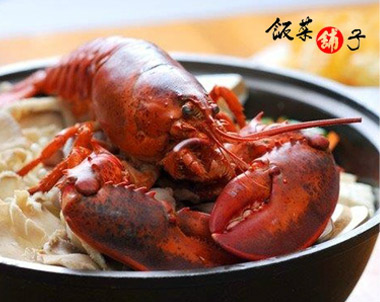 Feng Yuan Food Restaurant
Address: No.245, Xiangyang Rd., Fengyuan Dist., Taichung City 420, Taiwan (R.O.C.)
Tel: 886-4-2512-2726
The main chef of Feng Yuan food restaurant is a cooking teacher, Mr./Ms. Wu, he/she grouped his/her students working together for this restaurant over 10 years.
The main idea about this restaurant is to serve creative cuisine to satisfy every guest well. All cuisine/meal is cooked by Mr./Ms. Wu's team, they'll also teach guest a dish can have variety of tastes, that you can learn and cook at home. Mr./Ms. Wu's team is aim at creating more different dishes for their guest to try, welcome you all to learn more.
---
Accommodations
In addition to having great food and fun in Taichung, you should deserve to live comfortably and enjoy the delicate service!
---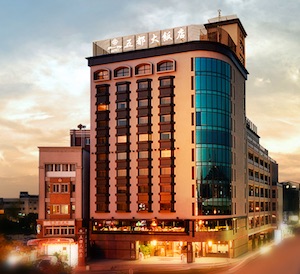 Grand City Hotel
Address: 420No.2, Sec. 1, Sanfeng Rd., Fengyuan Dist., Taichung City 420, Taiwan (R.O.C.)
Tel. 886-4-2528-5168
The Grand City Hotel is located in the prosperous area near the Feng Yuan Train Station, close to the Ci Ji Temple and the snack street east of it. The Ho Fon Bikeway and the Ton Fon Bikeway Green Corridor is within reach and overall the transportation here is easily accessible.
The Grand City Hotel is the top choice for commercial or recreational travels with our 120 guest rooms, the western Mayfair Restaurant on the first floor, the eastern Canton Palace on the second floor, the teppanyaki on the third floor and the ballroom in the basement floor.
---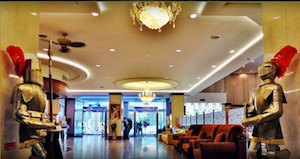 New Plaza Hotel
Address: No.77-1, Xiangyang Rd., Fengyuan Dist., Taichung City 420, Taiwan (R.O.C.)
Tel: 886-4-25288777
The Plaza Hotel is one of the business hotels in Feng Yuan Dist., it offers 85 distinctive guestrooms and suites which boast the largest square footage of any luxury hotel. It takes only 40 mins drive from Taichung Airport to the hotel, also it's incredibly convenient to trip other tourist spots in Taichung, such as Lih-Pao Theme Park, Xin She Green Town, Ho Fong Bikeway, Ton Fon Bikeway Green Corridor, Houli Horse Ranch, and Taichung Intercontinental Baseball Stadium.
---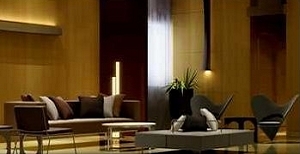 Spring Young Motel
Address: No.579, Chenggong Rd., Fengyuan Dist., Taichung City 420, Taiwan (R.O.C.)
Tel: 886-4-2520-5899
The Spring Young Hotel mainly offer two kind of guest rooms: double rooms and quad rooms, superior rooms and luxury SPA suites, total nine types of rooms available for guests to choose from. All room is designed with spacious space and elegant art decoration, which is romantic and relaxing. There is also free buffet breakfast service, which is really sweet.
---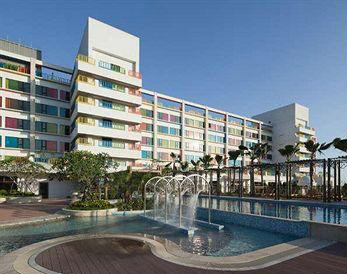 Fullon Hotels & Resorts
Address: No.88, Fullon Rd., Houli Dist., Taichung City 421, Taiwan (R.O.C.)
Tel: 886-4-2559-2888
Located next to Yamay Freeway Interchange in Taichung, with colorful eye-catching appearance and partnership with Lihpao Land and Mala Bay Water Park, Fullon Hotel Yamay became a must visit theme park resort in central Taiwan. The hotel creates a cheerful and happiness atmosphere with bright and comfortable rooms, multiple amenities, and selection of exquisite restaurants for the whole family to enjoy. It an amusement park resort that can exceed both parents and children's expectation for a wonderful vacation.
---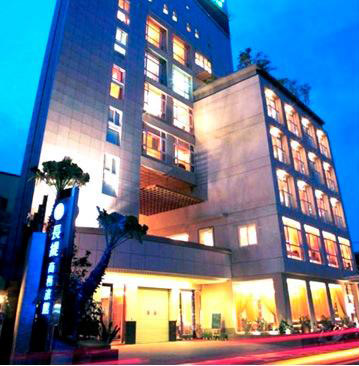 Chang-Ti Business Hotel
Address: No.2-1, Fengshi Rd., Dongshi Dist., Taichung City 423, Taiwan (R.O.C.)
Tel: 886-4-2577-1616
Chang-Ti Business Hotel is located in Taichung City, Dongye Town, in front of the Dongshih Forest District Office. The hotel is specially designed by well-known architect and interior designer, it gives the most elegant and stylish rooms in Dongye downtown. Some guest rooms are even with balcony that allow guests to wide open view over the mountains and landscape and enjoy yourselves in the nature beauty.
---
Ho Fong Business Stay
Address: No.128,Wuquan Rd.,Shengang Dist.,Taichung City429,Taiwan. R.O.C.
Tel: 886-4-2512-2211
With the best quality among Ho-Fong Business stay, it provides free WiFi and Internet connectivity, LCD digital TV set, exclusive safe deposit, fitness center, and parking lots.
As a member of Ho-Feng Business Hotel, this stay(hotel) look forward to presenting a worthy and comfortable living space to all the guests with professional training and meet various requirements while traveling on business with their truly sincerity.
---
Tourist Guidance
Taichung, the central of Taiwan, is the place full of energy, whether you are in downtown or suburbs, there are lots of amazing and/or historical places to go!
---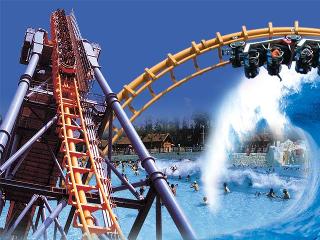 LihPao Land
Address: NO8, Fullon Road,Hou-Li, Taichung City 421, Taiwan
As the only theme park in Taichung area, LihPao Land is divided into two parks: Mala Bay and LihPao Discovery Land. On one hand, Mala Bay is a seasonal water theme park, which is famous for its water rides such as the "Big Wave", "Shark Surfer", and so on. As the only artificial wave in Asia, Big Wave has been the best attraction to people to spend their summer time. On the other hand, LihPao Discovery Land provides different amusement rides for both youth and adults. With the world's first off-track roller coaster and other shows and parades, LihPao Discovery Land is a great place for families and friends.
---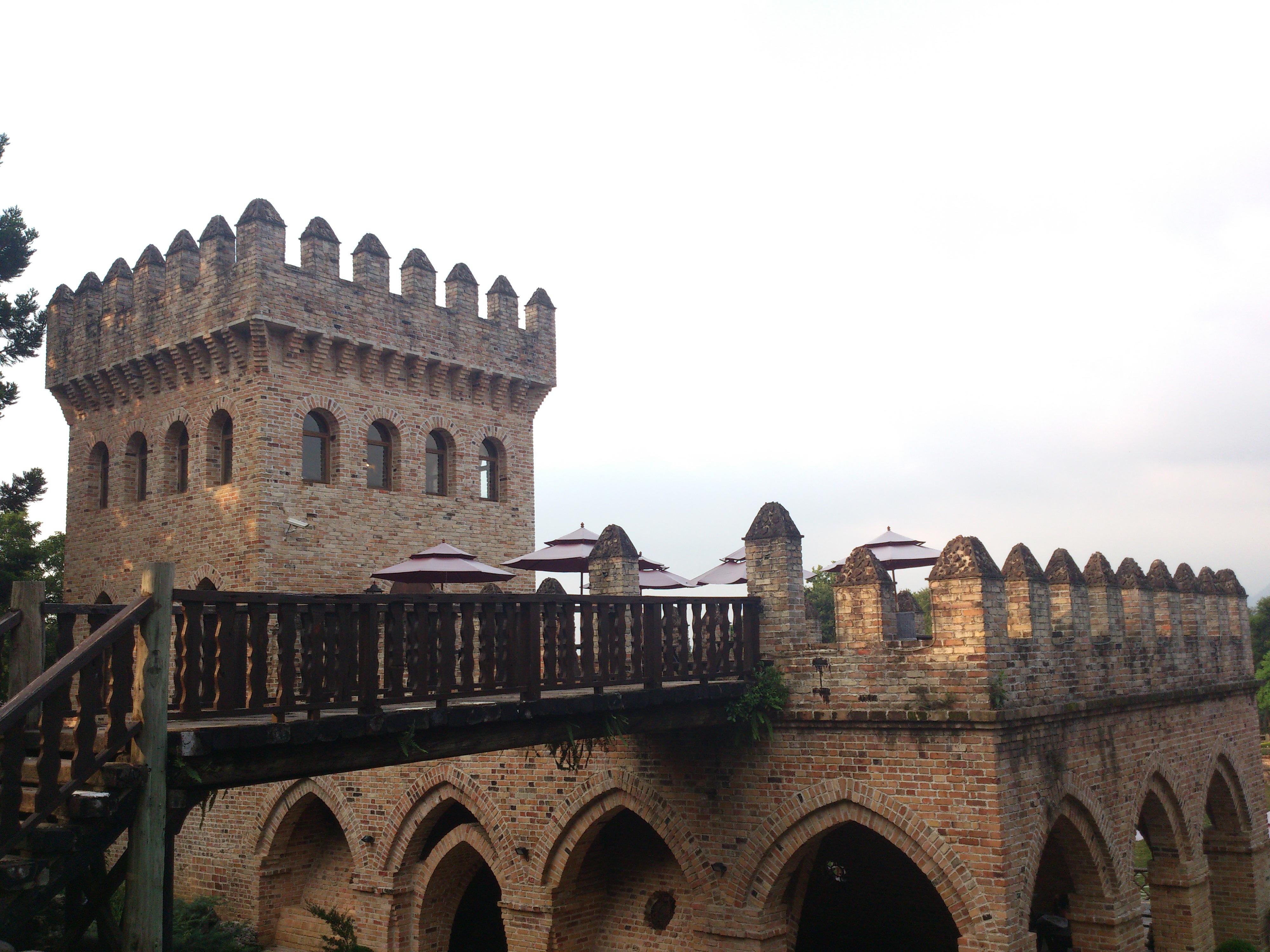 Summit Resort
Address: No.65, Xiezhong St., Xinshe Dist., Taichung City 426, Taiwan (R.O.C.)
Summit Resort locates in Xin She, Taichung County. It is a beautiful green town. There is much picturesque scenery, such like waterfall, garden, plum tree forest. Its most famous and special place is their glamorous castle building. This castle is so beautiful that most people to be attracted to this place just by its reputation as a scenic spot. Some other beautiful spots, like wine manor, tree house are famous too.
This is a place which suits to take a picture so lots of directors came to here to film their dramas. If you are hungry, don't worry, there are characteristic restaurants there. Main dishes, desserts, drinks all of the meals there are delicious. It is a place full of fun, pleasure, and happiness. Just come here to feel the feeling, and you won't be disappointed.
---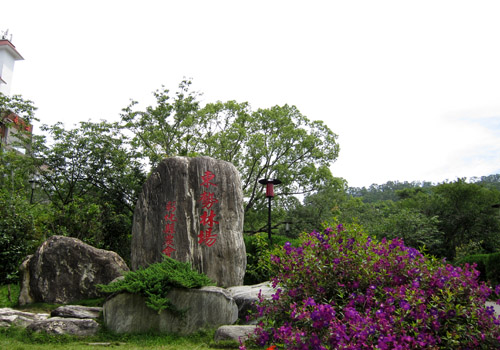 Dongshih Forest Garden
Address: No.6-1, Shilin St., Dongshi Dist., Taichung City 423, Taiwan (R.O.C.)
Dongshi Forest Garden is located in the southeast corner of Dongshi District in Taichung City. Known as the Yangmingshan of central Taiwan, the garden covers an area of 212 hectares at an elevation of 500 to 700 meters above sea level. This ecologically rich area and seasonally changing garden is well equipped for family recreations and company training retreats. The garden facilities include vacation cabins, playgrounds, camping and barbecue areas, conference rooms, and hiking trails.
In recent years, Dongshi Forest Garden has enhanced forest management and planted flowers to ensure year-round blooms. The plum blossoms come out January, the cherry blooms and azaleas from January to March, the azaleas, and the paulownia flowers from April to May. From November to January, visitors can also enjoy the fall colors as the maples blush with brilliant reds. The forest garden is also a popular firefly viewing area during the months of March to September. And there are garden guides on hand to introduce visitors to all of the many of Dongshi Forest Garden.
---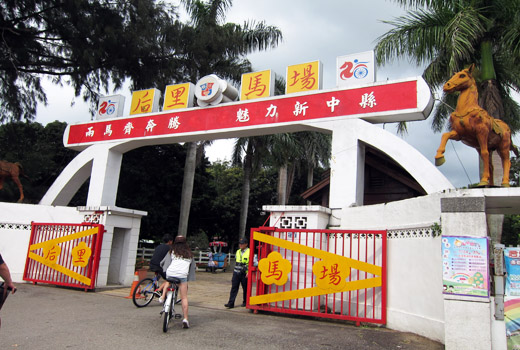 Houli Horse Ranch
Address: No.41, Sishan Rd., Houli Dist., Taichung City 421, Taiwan (R.O.C.)
Established in May, 1952, the Houli Horse Ranch was the stud farm of Taiwan's Combined Logistics Command. Its mission is to improve horse breeds to serve both the country's military and civilian needs and to sustain national traditional cavalry and horse policies. Decades later in 1997, the Houli District Office took over its administration.
Since then, the ranch has been transformed into a leisure and tourism-oriented park with modern facilities and diverse management directions. Nowadays, there are adorable "mini horses", gentle "parent-child horses," nimble "horse riding training horses," speedy "control horses," as well as "Arabian horses" and "British pure blood studs" for breeding purposes, each with its own unique features. In addition, the ranch is full of life with vast green pastures everywhere, luxuriant century-old trees accentuating the landscape here and there, and the sound of horses and birds in the background of traditional historic buildings of the horse ranch. Visitors can enjoy a most relaxing day here.
In addition to horse riding, there are other activities for visitors to choose from such as horse carriage-riding, shooting and healthy scooters and a camping area for barbecue. As the island's best horse ranch, most of the national horse riding competitions in the past decades were held at the ranch's horse riding center. Apart from making contributions to the development of horse riding as a sport, the ranch is also a place where academic and organization groups can go for inter-action activities. The Houli Horse Ranch indeed has educational and academic benefits as well as recreational and tourist ones. It is a unique tourist and recreational center in Taichung City.
---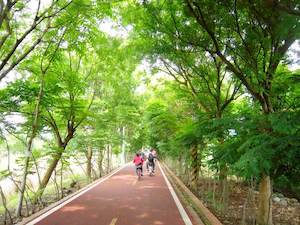 Ton Fon Bikeway Green Corridor
Located in Dongshi Dist., Houli Dist., Shigang Dist., and Fengyuan In Taichung
Connecting Houli District and Fengyuan District of Taichung, the 4.5-kilometer-long Houfeng Bikeway is Taiwan's first bike path converted from an abandoned railroad track, which extends all the way to Houli Horse Farm. Bike rentals are available on-site at an affordable price of TWD300. You will cross the 1,273-meter-long No. 9 Tunnel as well as a steel railway bridge converted for bicycle use, offering stunning views of the Dajia River valley. Most of the paved surface is relatively flat, making for easy cycling.
Without motorized traffic, the bikeway is dedicated to cycling and relatively safe for cyclists. The steel railway bridge that crosses Dajia River was built during the Japanese Colonial Era, whose architectural significance is still being praised today. The surface can be quite slippery, so make sure you pay extra attention while pedalling through. The No. 9 Tunnel is another highlight during the ride. It is the longest railway tunnel along the decommissioned railway lines. The thunderous 10-second experience for passengers aboard a speeding train is now slowed down and appreciated in relative silence, where cyclists get to experience the unknown and unexpected in this dark, breezy tunnel until they could see faint sunlight coming from the other side.
---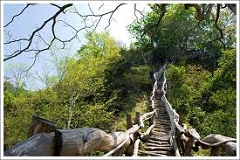 Darken Attraction
Address: Sec. 2, Dongshan Rd., Beitun Dist., Taichung City 406, Taiwan (R.O.C.)
Darken Attraction, Taichung city, owns more than 30 deciduous trees – often constituting beautiful scenario constructed of countless golden leaves on the floor at the turn of the dry and moist seasons, making it comparable to the falling Autumn leaves available in Auwanda. Darken features its highest degree of natural quality within Taichung city, and is a good spot suited to holiday leisure activities, touring, and forest shower for the general public. With its surface amounting to 3300 acres, inside the attraction of Darken are there nine trails for mountain climbing purpose. In between the trails are small cottage where visitors may look farther and enjoy the mental achievements.
---